Choose a background colour
Cor­nelis Saftleven, Dutch, 1607-1681

:

Pigeons on a Chimney and a Nest of Storks by a Steeple, c. 1646
Black chalk and gray wash with touches of red chalk (for the beaks of the storks) on paper; framing lines in black ink.
5 5⁄8 × 7 11⁄16 in. (14.3 × 19.5 cm)
Recto, upper left in pencil, 16.
Chain Lines:

Vertical, 22 – 24 mm.

Watermark:

Fragment of a Crown, likely the top of an Arms of the Seven Provinces with Lion.

Provenance:

Hans van Leeuwen, 1911 – 2010, Amerongen (Lugt 2799a, stamp on verso); his sale, Christie's, Amsterdam, 24 November 1992, lot 174; Sheldon and Leena Peck, Boston (Lugt 3847); gift to the Ackland Art Museum, inv. no. 2017.1.76.

Literature/Exhibitions:

Schulz 1978, 164, no. 392; F. Robinson in Chapel Hill, Ithaca & Worcester 1999 – 2001, 90 – 91, no. 28.

Ackland Catalogue:
Four plump pigeons rest on a chim­ney above a sus­pend­ed clay pot, a prob­a­ble nest­ing site for small­er birds. In the mid­dle dis­tance a fam­i­ly of storks, por­trayed with dis­tinc­tive red chalk beaks, roost in a nest made specif­i­cal­ly for them. Such man-made nest­ing boxes were installed to entice these long-legged wad­ing birds because they alleged­ly con­ferred luck and fer­til­i­ty to a home­'s inhab­i­tants, though the prop­er­ty here is a church or civic building.
Cor­nelis Saftleven's cre­ativ­i­ty and orig­i­nal­i­ty are appar­ent from the draw­ing's unusu­al view­point and unex­pect­ed sub­ject mat­ter. To sat­is­fy demand among col­lec­tors for his work, Saftleven occa­sion­al­ly copied his own draw­ings, includ­ing this sheet, which he repro­duced from a larg­er composition.
This unusu­al view­point across rooftops demon­strates Saftleven's orig­i­nal­i­ty in both his com­po­si­tion­al approach and choice of sub­ject mat­ter. Wolf­gang Schulz cat­a­logued this draw­ing under land­scapes, though it defies the norms of that genre, being a study of birds in their nat­ur­al milieu drawn from what appears to be a high van­tage point.1
Birds fre­quent­ly fea­ture in Saftleven's paint­ings and draw­ings, often in his satires and some­times in his more focused stud­ies of indi­vid­ual ani­mals. Here he depicts four plump pigeons on a chim­ney above a sus­pend­ed clay pot that is prob­a­bly a nest­ing site for small­er birds like star­lings. A group of storks in the mid­dle dis­tance appear in a nest built specif­i­cal­ly to entice them to set­tle there, as is still seen in parts of the Alsace and else­where today. The ori­gins of the long-stand­ing prac­tice of build­ing stork nests on rooftops is unclear, but has been relat­ed to the con­vic­tion that storks bring good luck to the inhab­i­tants, as well as the notion of increased fer­til­i­ty (thus the myth of storks bring­ing babies). In this case, how­ev­er, the storks nest on a church or civic struc­ture of some sort rather than a domes­tic dwelling.2

Two other draw­ings by Saftleven repro­duce the left and right halves of this com­po­si­tion, in Lei­den and Paris respec­tive­ly Fig. 27.1,Fig. 27.2.3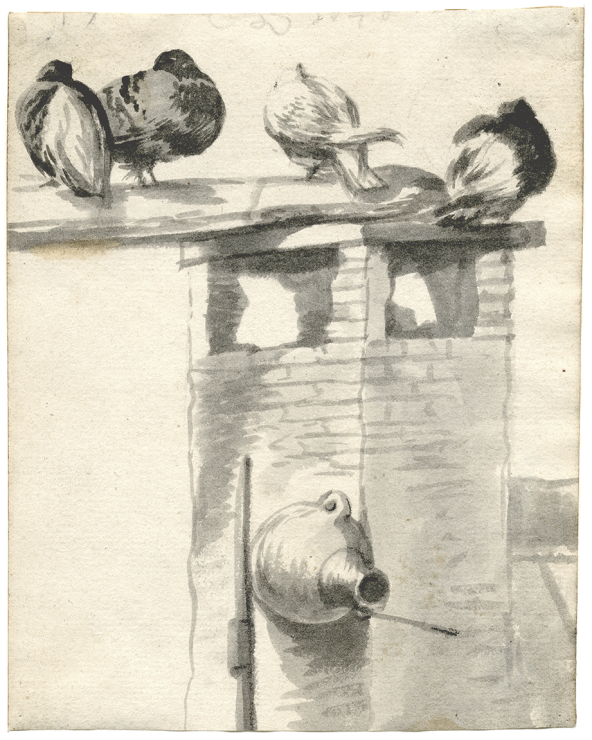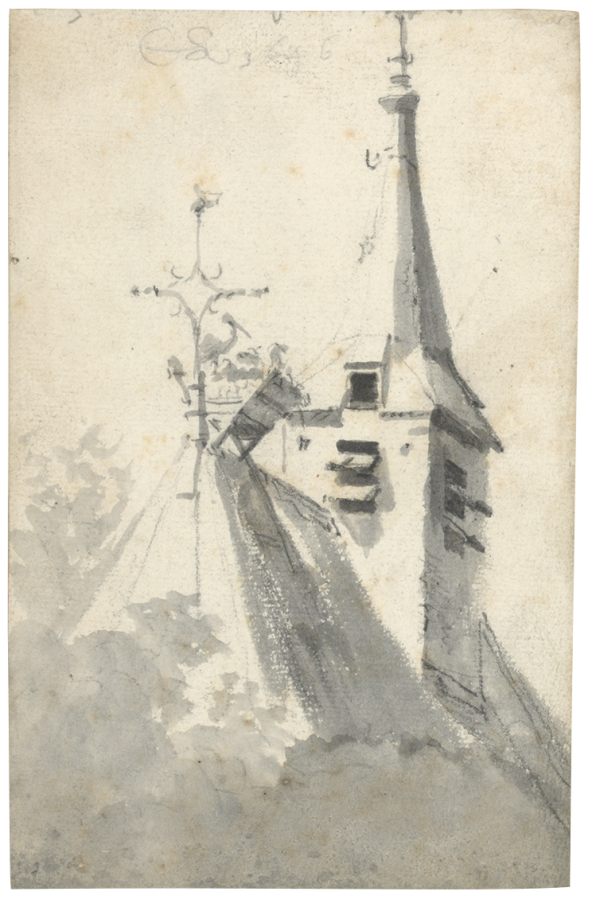 Schulz was cor­rect in accept­ing all three as auto­graph works by the artist, though he left open the ques­tion of prece­dence. Given the loos­er appear­ance of the Lei­den and Paris sheets, they were arguably gen­er­at­ed before the present work, which appears to com­bine their sub­jects into one com­po­si­tion. Saftleven uni­fied the bank of trees in the back­ground, and made sub­tle addi­tions in red chalk for the beaks of the storks. Since the two halves are to scale with the Peck sheet (though the Lei­den half was cut down a lit­tle more), it is pos­si­ble they were once part of a sin­gle larg­er sheet that was sliced in two. Each half bears Saftleven's mono­gram (both accept­ed as auto­graph by Schulz), and one or both of these may have been added by the artist if he cut the sheet in half him­self. The mono­gram and date on the Lei­den sheet have been cropped through the mid­dle, mak­ing the last digit illeg­i­ble, but the year is most like­ly the same as the vis­i­ble one on the Paris half, 1646. The present draw­ing is assumed to be an auto­graph copy made around the same time or short­ly thereafter.
As Schulz point­ed out, Saftleven was occa­sion­al­ly in the habit of mak­ing copies of his draw­ings, a tes­ta­ment to the demand they must have had among col­lec­tors.4
One of the best doc­u­ment­ed exam­ples is a study of a brown bear that sur­vives in four dif­fer­ent ver­sions, each with slight dif­fer­ences, and all dated 1649.5
In anoth­er notable case, Cor­nelis, who lived in Rot­ter­dam, sent his broth­er Her­man in Utrecht a remark­ably faith­ful repli­ca of his 1662 study of a seat­ed man with a pipe.6
This sheet, recent­ly acquired by the Rijksmu­se­um, was once fold­ed to enclose a let­ter and bears Her­man's address of the verso. It serves as proof that not all of Cor­nelis's drawn copies were nec­es­sar­i­ly made for the mar­ket, though it was nev­er­the­less the most like­ly moti­vat­ing fac­tor in other cases.
Schulz noted a copy of this draw­ing from the Hof­st­ede de Groot and Houthakker col­lec­tions once on the art mar­ket (and then attrib­uted to Her­man Saftleven) that he sus­pect­ed to be by a later hand.7
Now in the Ack­land's col­lec­tion, it was acquired and donat­ed by the Pecks for study pur­pos­es Fig. 27.3.
The han­dling is indeed indica­tive of a copy by anoth­er artist (who remains unknown), and the paper bears a water­mark from the early eigh­teenth century.