Choose a background colour
Bartholomeus Breen­bergh, Dutch, 1598-1657

:

Cliffs, Pos­si­bly near Brac­ciano, c. 1625
Pen and brown ink with brown and gray washes on paper; traces of framing lines in brown ink.
9 15⁄16 × 12 3⁄4 in. (25.2 × 32.4 cm)
backing sheet, at top center, in pencil, HP with a paraph; and lower right, No 33.
Chain Lines:

Vertical, 30 – 32 mm.

Watermark:

Crown with five points below a six-pointed star, cf. Heawood 1116.

Provenance:

Sale, Christie's, Amsterdam, 26 November 1984, lot 66; Ian Woodner, 1903– 1990, New York; his sale, Christie's, London, 2 July 1991, lot 209; Sheldon and Leena Peck, Boston (Lugt 3847); gift to the Ackland Art Museum, inv. no. 2017.1.15.

Literature/Exhibitions:

Roethlisberger 1985, 65; Roethlisberger 1991, 91; F. Robinson in Chapel Hill, Ithaca & Worcester 1999 – 2001, 38 – 39, no. 2; P. Schatborn in Amsterdam 2001, 66, 205 (note 8).

Ackland Catalogue:
This strik­ing image depicts cliffs on a road near Brac­ciano, a town north­west of Rome famous for its vol­canic lake. A small chapel or shrine appears at the top of the cliffs, a com­mon fea­ture along such roads. This one may have been reached by a path lead­ing up the deep chan­nel to the right of the structure.
Bartholomeus Breen­bergh was among the first land­scape spe­cial­ists from the Dutch Repub­lic to trav­el to Italy, remain­ing there from 1619 to 1629. Togeth­er with his con­tem­po­rary Cor­nelis van Poe­len­burch, he pio­neered a draw­ing tech­nique using broad, some­times sharply defined areas of wash next to the blank white area of the paper to cre­ate dra­mat­ic effects of sun­light. His inno­v­a­tive tech­nique influ­enced younger artists like Jan de Biss­chop and Con­stan­ti­jn Huy­gens II.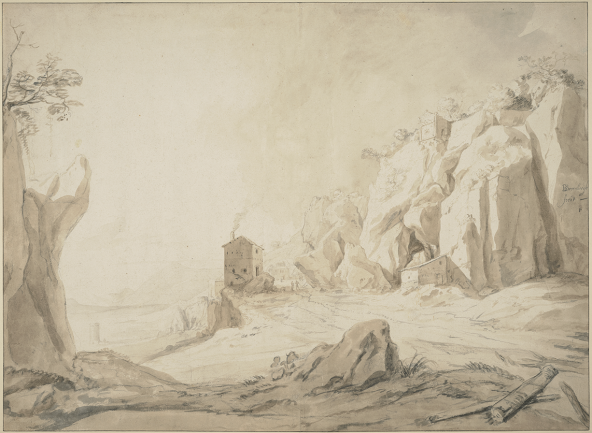 For an overview of Breen­bergh's life and relat­ed doc­u­ments, see Nalis 1972; more sum­mar­i­ly in Roeth­lis­berg­er 1981, 1 – 5; and Ams­ter­dam 2001, 66.

The most exten­sive treat­ment of Breen­bergh's draw­ings to date remains Roeth­lis­berg­er 1969; see also P. Schat­born in Ams­ter­dam 2001, 66 – 73; and the remarks in Alsteens 2015. For Van Poe­len­burch's draw­ings, see Chong 1987, which also attempts to dis­en­tan­gle a few of his draw­ings from Breen­bergh's oeuvre.

Roeth­lis­berg­er 1981, 19 – 20.

Roeth­lis­berg­er 1969, 1, esti­mat­ing about 200 draw­ings (three-quar­ters of which are treat­ed in this mono­graph, not intend­ed as com­plete); reit­er­at­ed in Roeth­lis­berg­er 1981, 5, but the num­ber might now be slight­ly higher.

For the Alberti­na and Getty draw­ings, see Roeth­lis­berg­er 1969, nos. 35, 35 (the lat­ter then in a pri­vate col­lec­tion). For the Bril, idem. no. 33; and Ruby 1999, no. 100. The rela­tion­ship between the Peck draw­ing and these sheets was dis­cussed ear­li­er by F. Robin­son in Chapel Hill, Itha­ca & Worces­ter 1999 – 2001, no. 2. Robin­son also point­ed to a por­tion of the left-hand side of the com­po­si­tion repeat­ed in a draw­ing given to Breen­bergh, present where­abouts unknown, found in a deal­er cat­a­logue (Houthakker 1969, no. 6); the attri­bu­tion of the lat­ter seems ques­tion­able but can only be judged from the reproduction.

See Roeth­lis­berg­er 1969, 9, nos. 13 – 14, 99 – 100; Alsteens 2015; and Chica­go 2019 – 20, no. 90 (repro­duc­ing the left half of Roeth­lis­berg­er 1969, no. 104).

The his­tor­i­cal mount­ing of the Alberti­na sheet frus­trates the study of any water­mark that might be present; my thanks to Eva Michel for check­ing this in person.

As remarked in Alsteens 2015, 448, who notes that the dat­ing of other draw­ings set in Italy should prob­a­bly be recon­sid­ered as well. Roeth­lis­berg­er had assumed that the major­i­ty of Breen­bergh's sur­viv­ing draw­ings were made in Italy since they depict­ed Ital­ian sub­jects, but this might not actu­al­ly be the case; see Roeth­lis­berg­er 1969, 2.

Bredius 1889, 43.

See Depauw 1989; Depauw 1992; Depauw 1997; and Ruby 1999, no. 101.

Ams­ter­dam 2001, 66.

Ruby 1999, 153, note 671 (in ref­er­ence to cat. 100).

Chong 1987, 10.

For Bril's auto­graph repli­cas, see Ruby 1999, 28 – 29 ("copy ver­sions"); and for the prac­tice gen­er­al­ly, see Ruby 2013.

The con­fu­sion appears to have orig­i­nat­ed with Roeth­lis­berg­er, who first noted the draw­ing with­out ven­tur­ing a title (Roeth­lis­berg­er 1985, 65) short­ly after it appeared on the mar­ket, then sup­plied a brief descrip­tion (Roeth­lis­berg­er 1991, 93, under ​"Some newly appeared draw­ings") with the title A Cliff (near Bomar­zo?). This may have been a slip of the pen, since he knew about the inscrip­tion on the verso of the Getty sheet and had cat­a­logued both relat­ed draw­ings as Land­schaft (bei Brac­ciano?); see Roeth­lis­berg­er 1969, nos. 34, 35.

Roeth­lis­berg­er 1969Breen­bergh's seem­ing­ly vital rela­tion­ship with Orsi­ni is a topic that has only light­ly been treat­ed in the lit­er­a­ture to date, but see Roeth­lis­berg­er 1969, 8; and Schat­born in Ams­ter­dam 2001, 67. See also the impor­tant recent study, Amen­dola 2014, which pub­lish­es for the first time a list of draw­ings found in the Orsi­ni archives, includ­ing nine by Breen­bergh (idem, 149 – 50, under foli­um 5 recto). The present draw­ing, being the only one of this sub­ject on Ital­ian paper, might pos­si­bly be the Casa sopra una mon­tagnio­la list­ed there­in, although this descrip­tion applies just as well (if not bet­ter) to a draw­ing in Berlin (Roeth­lis­berg­er 1969, no. 20; and Bock & Rosen­berg 1930, no. 5436).

See Roeth­lis­berg­er 1969, 8, for an account of these works. For Breen­bergh in the Gar­dens of Bomar­zo, see also Kool­ber­gen 1984, 52 – 65.

Ams­ter­dam 2001Ams­ter­dam, Rijksmu­se­um, inv. no. rpt-1967 – 73; Ams­ter­dam 2001, 67 (fi g. D); and Roeth­lis­berg­er 1969, no. 107.

Inv. no. Mas. 1576; Roeth­lis­berg­er 1969, no. 14 (and no. 13 for relat­ed draw­ing in St. Peters­burg); see also Paris & Ajac­cio 2014 – 15, no. 16. A third ver­sion on the art mar­ket was posit­ed, per­haps incor­rect­ly, as the pro­to­type; see R. Verdi in Birm­ing­ham & The Hague 2004 – 05, no. 12.