Choose a background colour
Allaert van Everdin­gen, Dutch, 1621-1675

:

Rocky Coast with Boats on a Rough Sea, c. 1650
Brush and pen in brown ink and brown wash over traces of black chalk on paper; framing lines in brown ink.
4 1⁄2 × 6 1⁄2 in. (11.5 × 16.5 cm)
Recto, on rock lower center, signed by the artist with monogram, in pen and brown ink, AVE; verso, lower right, in pencil (nineteenth or twentieth century), A drawing by Everdingen.
Chain Lines:

Vertical, 25 – 26 mm.

Watermark:

Probably a Coat-of-Arms (unidentified), minor fragment showing the crown on top.

Provenance:

Sybrand Feitama Jr., 1694 – 1758, Amsterdam, purchased between 1710 and 1712 (in his Notes on Drawings, 441: I Zee met een klip; alle 8 met roet motr: Ao 1670 geteekend; … en de zes overige zyn gekocht in, in sedert het jaar 1710 tot 1712, à f 4:- ​'t stuck; is dus f 36,-,-.); his sale, De Bosch, Amsterdam, 16 October 1758, no. K27 (Een rotsig strandje, met roet, omtrent Ao. 1670. H. 4½, br. 6¼ d.; sold f 13,-, to P. Kalkoen Wmsz.); Pieter Willemsz. Calkoen, 1712 – 1780, Amsterdam; his sale, Van der Schley et al., Amsterdam, 10 September 1781, no. E374 (Een Zeestrand met een woelende Zee, gestoffeerd met twee Visschers Schuiten, en op het strand eenigen Visschers, met roet gewassen; sold f 11,15, to Nijman); Jan Danser Nijman, 1735 – 1795, The Hague or Amsterdam; his sale, Van der Schley et al., Amsterdam, 19 March 1798, no. G10 (Een Noords Strandgezicht, in Zee eenige Scheepen en op ​'t Strand eenige Beeldjes; met roet gewassen; sold f 8,15); Henri Duval, Liège; his sale, Frederik Muller, Amsterdam, 22 – 23 June 1910, lot 115; Henry Oppenheimer, 1859 – 1932, London (Lugt 1351); his sale, Christie's, London, 13 July 1936, lot 243b; Ernst Goldschmidt, Brussels; sale, Tajan, Paris, 28 October 1994, lot 13; Sheldon and Leena Peck, Boston (Lugt 3847); gift to the Ackland Art Museum, inv. no. 2017.1.32.

Literature/Exhibitions:

F. Robinson in Chapel Hill, Ithaca & Worcester 1999 – 2001, 52 – 53, no. 9; Davies 2007, 283, no. 283; E. Dullaart in Alkmaar 2021, 106, fig. 146.

Ackland Catalogue:
Allart van Everdin­gen trav­eled to Scan­di­navia, like­ly early in his career around 1644, and drew views in Nor­way and Swe­den. Vari­a­tions of his Nordic scenes fea­tured promi­nent­ly in the draw­ings, etch­ings, and paint­ings that he com­plet­ed after his return. This sheet, although topo­graph­i­cal­ly like the North Sea, is more like­ly a stu­dio-gen­er­at­ed com­po­si­tion cre­at­ed from the artist's mind. As rough seas chal­lenge the fish­er­men in their boats, fig­ures on shore watch calm­ly and per­form their duties, pre­sent­ing a curi­ous lim­i­nal moment where the day could either con­clude safe­ly or end in disaster.
One of the endur­ing leg­ends about Allaert van Everdin­gen, com­ing from Arnold Houbrak­en (1660 – 1719), is that a dan­ger­ous storm he expe­ri­enced on a trip to the Baltic Sea land­ed him ​"will­ing or not" on the coast of Nor­way.1
The event was per­haps not quite the ​"ship­wreck" reit­er­at­ed by later com­men­ta­tors, but the story nev­er­the­less served as the cen­tral piece of bio­graph­i­cal drama, and per­haps even as a bit of self-fash­ion­ing by the artist him­self, for he is now hailed as the first painter of the Scan­di­na­vian land­scape.2 That he actu­al­ly vis­it­ed Nordic coun­tries seems beyond doubt.3
His draw­ings clear­ly show places such as Risør in Nor­way, then an impor­tant Dutch trad­ing port for tim­ber; as well as Troll­hät­ten and Möl­ndal in Swe­den, where he wit­nessed and drew some of the region's more dra­mat­ic water­falls. He prob­a­bly made the trip early in his career, around 1644.4
Back in the Nether­lands, Van Everdin­gen spent the rest of his career design­ing vari­a­tions of his Nordic-inspired scenery in his paint­ings, draw­ings, and etch­ings. Impos­ing rocky out­crops with an almost sur­re­al mono­lith­ic char­ac­ter, such as the one fea­tured in the present work, appear in many of his land­scapes, whether coastal or set more inland.5
They might at first glance appear to be topo­graph­i­cal­ly Scan­di­na­vian in essence, and it is true that Van Everdin­gen like­ly encoun­tered a num­ber of sim­i­lar coasts dur­ing his voy­age around the North Sea. As much or more weight should be given, how­ev­er, to an artis­tic tra­di­tion he inher­it­ed from a pre­vi­ous gen­er­a­tion of artists, such as his first teacher Roe­lant Sav­ery (1576 – 1639), who had also taken a great inter­est in exot­ic rock for­ma­tions, though inspired by his trav­els in Bohemia and the Alps rather than any coastal loca­tion Fig. 47.1.6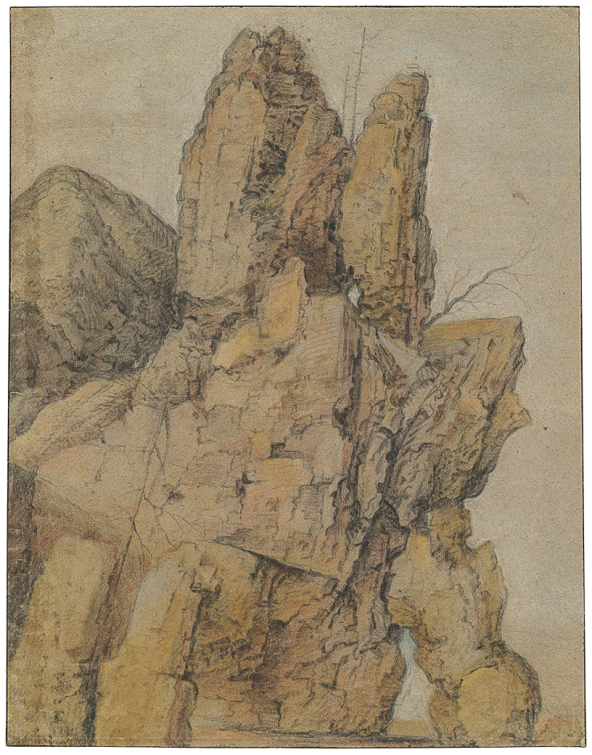 Other artists such as Simon de Vlieger (1600 – 1653) would freely invent sim­i­lar coastal mono­liths despite hav­ing never seen such for­ma­tions in per­son as far as we know Fig. 47.2.7
Van Everdin­gen's trav­els informed and refi ned his own dis­tinc­tive land­scape style, but despite what­ev­er topo­graph­ic lit­er­al­ness he employed on occa­sion, the stronger impulse was to imag­i­na­tive­ly craft land­scape motifs in the mode of what Joaneath Spicer called the ​"pic­to­r­i­al vocab­u­lary of oth­er­ness."8
The present work gives every appear­ance of being a stu­dio-gen­er­at­ed com­po­si­tion made whol­ly from the imag­i­na­tion despite the artist's inten­tion to impart a Nordic char­ac­ter to the coast.
The rough seas bat­tled by the fish­er­men in their boats here seem more the result of a strong gale than a true storm. The fig­ures on the shore go about their busi­ness or watch calm­ly as the fish­er­men con­tend with a strong lee­ward wind that appears to threat­en their safe­ty, or at least proves a chal­lenge to han­dle. In his study of Dutch tem­pest and ship­wreck imagery, Lawrence Goed­de offered a range of metaphor­ic inter­pre­ta­tions for this sort of inter­me­di­ate level of tur­moil, in which we are con­front­ed with nei­ther com­plete dis­as­ter nor calm seas but rather a ​"threat­en­ing lee shore," a reminder, for exam­ple, that the dan­gers of life are ever-present.9
It is dif­fi­cult to say if Van Everdin­gen intend­ed any­thing other than an inten­si­fied image of fish­er­men han­dling one of the nor­mal chal­lenges of their pro­fes­sion, or per­haps that the for­eign-seem­ing locale offered up addi­tion­al challenges.
Van Everdin­gen's drawn oeu­vre, while vast, has long resist­ed the devel­op­ment of a chrono­log­i­cal frame­work based on style or other fac­tors, a prob­lem exac­er­bat­ed by the fact that he almost never dated his draw­ings, and rarely his paint­ings.10
Most of Van Everdin­gen's marine paint­ings are early works, but draw­ings with marine sub­jects occu­pied him through­out his career.11
The Peck draw­ing might well be a later work from around 1670, as sug­gest­ed in the notes of its ear­li­est known owner, Sybrand Feita­ma (who acquired it between 1710 and 1712), though his rea­sons for assign­ing it this date are unknown.
Houbrak­en 1718 – 21, vol. 2, 95 – 96.

Blanc 2016, 15.

For the evi­dence and its his­to­ri­og­ra­phy, see Davies 1978, 17 – 27; Davies 2001, 26 – 27, and Alk­maar 2021. See also Sidén 2012 for an overview of Van Everdin­gen's activ­i­ties in Swe­den, includ­ing the Trip commission.

See Davies 2007, 11. The year 1644 appears on a copy by Jan de Bei­jer (1703 – 1780) of one of Van Everdin­gen's draw­ings of Risør, Nor­way, pro­vid­ing the only date that can be linked to the trip.

While his fre­quent reuse of the motif makes a com­pre­hen­sive list­ing of draw­ings unwieldy, for some fair­ly dra­mat­ic exam­ples, see Davies 2007, no. 8 (Haar­lem, Teylers Muse­um; see Plomp 1997, no. 140); no. 112 (Vien­na, Alberti­na; see New York & Fort Worth 1995, no. 71); and no. 159 (Cleve­land, Cleve­land Muse­um of Art; see Glaub­inger 1982).

For Sav­ery's inter­est in rock for­ma­tions, see Spicer 1997, 28 – 31. It also appears that Van Everdin­gen owned some of Sav­ery's Tyrolean land­scape draw­ings and even reworked them; see Davies 2001, 78 – 80, 84 – 85; and Davies 2001, 12. For fur­ther dis­cus­sion of Van Everdin­gen's rock motifs, see Glaub­inger 1982.

For De Vlieger's rocky coastal land­scapes, and Sav­ery's impact, see Van Eeghen 2011, 210 – 12.

Spicer 1997.

Goed­de 1989, 180 – 85. Goed­de also shows how preva­lent the motif of a ship approach­ing threat­en­ing rocks was in the emblem tra­di­tion (idem, 183 – 85) in the sev­en­teenth and early eigh­teenth cen­turies. For Goed­de's ideas in rela­tion to Van Everdin­gen's seascape paint­ings, see Davies 2013, 96 – 97.

For this prob­lem, see Davies 2007, 10 – 11, 36 – 47.

Davies 1978, 75.