Choose a background colour
Andries Both, Dutch, 1611/1612-1641

:

Crowd Outside an Inn with an Art-Seller, c. 1630-40
Pen and brown ink with gray and brown washes over traces of black chalk on paper; framing lines in brown ink.
10 5⁄16 × 14 5⁄8 in. (26.2 × 37.1 cm)
Verso of backing sheet, lower left, in pen, A 736; lower left, in pencil, André Both; upper left, Srodor [?]; upper center, 20 f; and lower right, 30 f.
Chain Lines:

Vertical, 25 – 27 mm.

Watermark:

None. Backing sheet with fragment of a crown, probably eighteenth century.

Provenance:

Sale, Sotheby's, Amsterdam, 21 November 1989, lot 37; Sheldon and Leena Peck, Boston (Lugt 3847); gift to the Ackland Art Museum, inv. no. 2017.1.12.

Literature/Exhibitions:

None.

Ackland Catalogue:
Although his life was cut short by his trag­ic drown­ing, Andries Both was known for his live­ly and humor­ous paint­ings of low-life genre scenes and street life. Here, a man raised above the crowd holds a rec­tan­gu­lar object, prob­a­bly a paint­ing, under the shade of a tav­ern's canopy. The Dutch mar­ket for paint­ings flour­ished in the sev­en­teenth cen­tu­ry and open-air lot­ter­ies and auc­tions became pop­u­lar, espe­cial­ly among buy­ers of lim­it­ed means. Despite their wide­spread occur­rence, such pub­lic sales were rarely depict­ed in the visu­al arts, mak­ing Both­'s sheet a note­wor­thy example.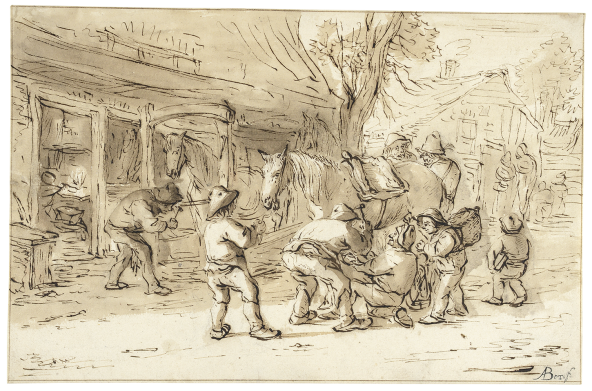 For overviews of Both­'s life and works, see Wadding­ham 1964; L. Trez­zani in Brig­an­ti et al. 1983, 195 – 202; and for the draw­ings espe­cial­ly, P. Schat­born in Ams­ter­dam 2001, 88 – 93.

For these early land­scape draw­ings, see Haverkamp-Bege­mann 1976.

Sale cat­a­logue, Sothe­by's, Ams­ter­dam, 21 Novem­ber 1989, lot 37. The attri­bu­tion to Graat was like­ly made on the basis of com­par­i­son with a barn stall inte­ri­or draw­ing in the British Muse­um (inv. no. 1857,0110.2; and Hind 1915 – 31, vol. 3, 105, no. 1), for which the attri­bu­tion to Graat is ques­tion­able, as is the com­par­i­son to the present work.

Both­'s stopover in Rouen is known from the draw­ing Drink­ing Peas­ants, signed and dated ABoth / Rouen 1633 (Weimar, Schloß­mu­se­um, inv. no. kk 4803); see C. Dumas in Ams­ter­dam 1999, 48 – 49.

De Marchi 1995; and Raux 2018.

For the spec­ta­cle of lot­ter­ies in the Low Coun­tries, and relat­ed imagery, see Raux 2018, 63 – 72, 284 – 87.

See Miede­ma 1980, vol. 1, 136 – 37, no. A45; and Fucci 2018a, 268 – 69, doc. 74.